Unplugged Wedding, Sacramento Wedding Photographer, Donna Beck Photography
When you see this picture, what do you see?   A couple exchanging their first kiss?  I hope so.  Hopefully you aren't distracted by all of the electronic devices held out into aisle.  If you are, you may want to consider going "unplugged".  What is unplugged you ask?  It's when you politely ask your guests to turn off their electronic devices during the ceremony and focus on the happy couple, not on being the first to upload an image to Instagram.
It never fails, I see it every wedding.  Guests race to get to the aisles so they can get pictures and videos of the happy couple.
So if you decide that you don't want people either posting pictures you don't love to social media or they may get in the way of the perfect picture.  Here's a few ways you can politely ask your guests to go unplugged.
Create a sign for your guests, like this one…
Or you can have cards passed out with a program like these, available on Etsy: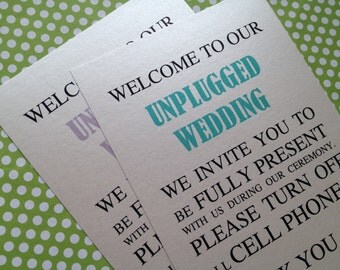 Here's another great read on the subject from the Huffington Post.
Now here's my 2 cents.  It's pretty simple.  If you aren't bothered by it, then I am not either.  But I do feel it's important for all of my brides and grooms to be aware of what could happen if you choose to not to unplugged.
Enjoy!